G'day all! Newby here. I live in High Wycombe, Perth and recently got myself a rough 1600 wagon for a project: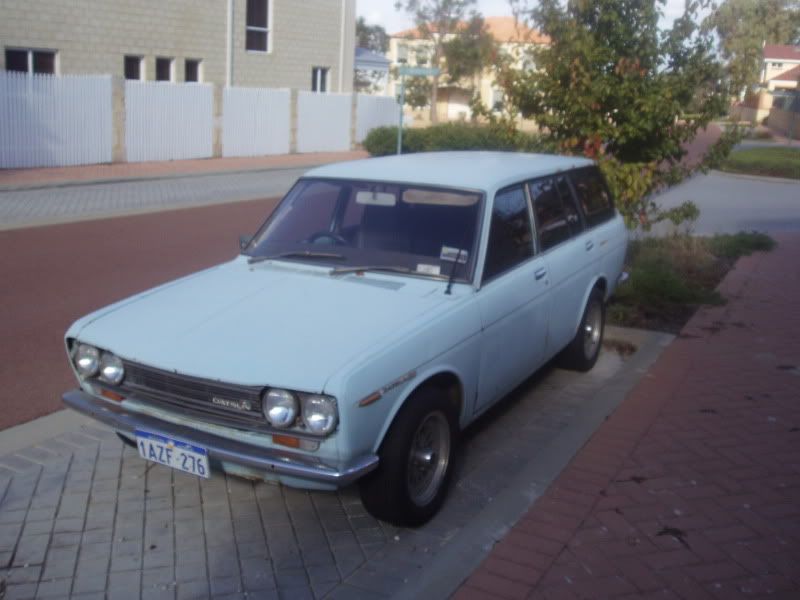 I've mostly been into 4WD's up until now, mainly Patrols (still moderate on [url]patrol4x4wa.com[/url] and still have my shorty), also had an R34 turbo 4-door for a while, but the missus is now happy with her '04 Maxima. I've been wanting a good Datto for as long as long as I've had my license! I was looking for 1200 ute or sedan, or ideally a 1600 sedan, but when this wagon came up, I figured they are getting kinda rare now, so it might end up being something quite interesting.
I'm just looking at doing a clean & straight restoration job on the 1600, riding low, with some old-school jap 14's or 15's. Nothing extreme. I'm picking up a very tidy Bluey wagon off a mate (FREE!!) this weekend which is going to donate it's L20B, front seats (?) and front struts (?) for the good cause. Need to find a good dogleg 5-speed (or maybe a 4-speed??) too as the Bluey has got a slush-box in a hundred peices sitting in the back. Or does anyone know who would be good to rebuild my current dogleg 5-speed and how much I could expect to pay?? It crunches badly into every gear!!
So far I've just been busy stripping the wagon, getting it ready for a fair bit of body work that it needs, then I'll be looking at paint. Probably just go with a classic sorta off-white colour I think.....?
Anyway, once things start moving along, I'll start up a proper build thread for it.
PS: sorry about the long-winded intro post!